ANIA
Hotel:
ANIA
Address:
Żydowska 2,
05-825 Grodzisk Mazowiecki
Telephones:
pokaż telefon
Telephones:
22 755 52 13
Fax-machine:
22 755 54 55
WWW:
www.hotelik.waw.pl
GPS:
N 52.11404
E 20.623178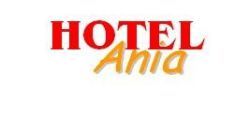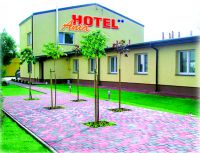 General information
| | |
| --- | --- |
| Standard | ** |
| Hotel day | 14:00 - 12:00 |
| Number of rooms | 15 |
| Number of accommodation places | 33 |
| Price from: | 140 zł |
| Language communication | polski, angielski, niemiecki |
| | gotówka, karta płatnicza |
Description of the complex
Hotel Ania usytuowany jest blisko centrum Grodziska Mazowieckiego. Dogodna lokalizacja zapewnia łatwy i szybki dojazd. Zapewniamy spokojny wypoczynek w dwuosobowych pokojach z możliwością dostawki. W każdym pokoju jest łazienka z pełnym węzłem sanitarnym, tv z radiem, dostęp do internetu. Przy dłuższych pobytach możliwość negocjacji ceny. Zapraszamy!
Additional information
Non-smoking rooms
Acceptance of payment by card
Extra services
Towels and bedclothes exchange co 3-4 dni, na życzenie
Car park
Close to the hotel
Car park for coaches
Monitored
Free of charge
Acceptable pecuniary means
Diners Club
Visa
Eurocard/Mastercard
American Express
Japan Credit Bureau (JCB Int'l)
Bill at the company's expense possible
Range of mobile networks
Era
Heyah
Orange
Plus
Samiswoi
Play
Rezerwacja przez telefon lub e-mail.
Rezerwacja gwarantowana do godz. 16:00 w dniu przyjazdu, możliwość indywidualnego uzgodnienia godziny przyjazdu. Anulowanie rezerwacji najpóźniej w dzień poprzedzający przyjazd bez ponoszenia żadnych kosztów.
Adjustment of the complex to people with disability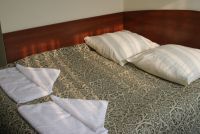 Prices of rooms in PLN
Double room with a bed
140,00 PLN
70,00 USD
46,67 EUR
35,00 GBP
Rezerwuj
Double room with a bed
140,00 PLN
70,00 USD
46,67 EUR
35,00 GBP
Rezerwuj
Triple room
180,00 PLN
90,00 USD
60,00 EUR
45,00 GBP
Rezerwuj
Pokój LUX - 2-os.
160,00 PLN
80,00 USD
53,33 EUR
40,00 GBP
Rezerwuj
Pokój LUX - 3-os.
200,00 PLN
100,00 USD
66,67 EUR
50,00 GBP
Rezerwuj
Ceny obliczone na podstawie średniego kursu walut NBP z dnia: 02-01-2017
Rooms equipment
Internet Lan
Interent WiFi
TV
Telephone
Radio
Bathroom in the room
Bathroom equipment
Shower
Wash basin
Water Closet
Mirror
Small towel
Shower towel
Soap
Distances
| | |
| --- | --- |
| To the airport | 30 km |
| To the railway station | 0,5 km |
| To the coach station | 0,5 km |
| To the Centre | 0,5 km |
| Towards ATM (cach machine) | 0,5 km |
How to get
Other hotels in Grodzisku Mazowieckim
[X] Close
Send an e-mail to the complex :
ANIA
Żydowska 2,
05-825 Grodzisk Mazowiecki
| | |
| --- | --- |
| Name and surname: | |
| Telephone: | |
| E-mail: | |
| Message: | |
| | |
[X] Close
Book a stay in the complex:
ANIA
Żydowska 2,
05-825 Grodzisk Mazowiecki
| | |
| --- | --- |
| Arrival date: | |
| Departure date: | |
| : | |
| : | |
| : | |
| : | Ilość: |
| | |
[X] Close
Recommend to a friend
| | |
| --- | --- |
| Your name and surname: | |
| Your e-mail: | |
| Friend's e-mail: | |
| Message: | |
| | |